Overview
At the 2023 Every Hour Counts National Conference, we'll gather to discuss what's possible to engage, empower and support young people. We'll explore how to develop community-wide solutions with young people and all leaders from across communities.
Join us May 30 – June 1 to share, strategize, and connect. Join forward-thinking leaders – intermediary leaders, community providers, non-profit partners, school district representatives, policymakers, funders, youth, researchers, and more– to make some waves!
At the Every Hour Counts National Conference, you will:
Get Inspired.

Participants will share stories and seek advice with local system leaders who represent a diverse range of perspectives. In interactive sessions with passionate speakers, you'll encounter illuminating perspectives to inform policy and practice in your communities.

Identify Solutions. 

Engage in strategic conversations with community leaders from across the country to identify solutions that advance the future of afterschool and learning.

Strategize to Center Youth.

Every Hour Counts leaders are passionate about centering and engaging young people. At this conference, learn how to center youth voice in your local work with both the philosophies and realities needed for systemic change.

Advance Racial Equity.

Engage in discussions designed to educate, enlighten, and empower action to foster racially equitable systems and dismantle systemic racism.

Make Connections.

Interact with creative thinkers and innovators from across the youth development field and foster new collaborations.
If you are interested in being part of a unique community to design creative cross-sector solutions, the Every Hour Counts Conference is the place for you.
Registration
Early Bird Rate (through April 14)
Group of 3+
$675 per person
Group of 3+
$725 per person
Let's Make Waves!
In 2023, West Palm Beach, Florida, is the ideal location for systems leaders to reflect and recharge in the work to meet the needs of young people and foster more just societies. 
We'll join in community to consider:
How have our systems changed and adapted in recent years? In what ways is our work…
more youth-centered and youth-led?

more focused on racial equity?

more data-driven?

more attuned to the range of impacts for youth, families and communities?

more welcoming of partners?

more focused on program quality?

more supportive of youth development professionals and in recognition of job quality needs?

more bold, innovative and creative?
Join forward-thinking leaders—intermediary leaders, community providers, school district representatives, policymakers, funders, researchers, and youth to blaze a path forward. Every Hour Counts network leaders who represent 28 communities, 3,500 school and community partnerships and reach 500,000 young people, will share successes, challenges, strategies, and resources to build stronger learning systems that holistically support children and youth.
Community teams are encouraged to register; Individuals are also invited and will find like-minded colleagues who want to share and strategize.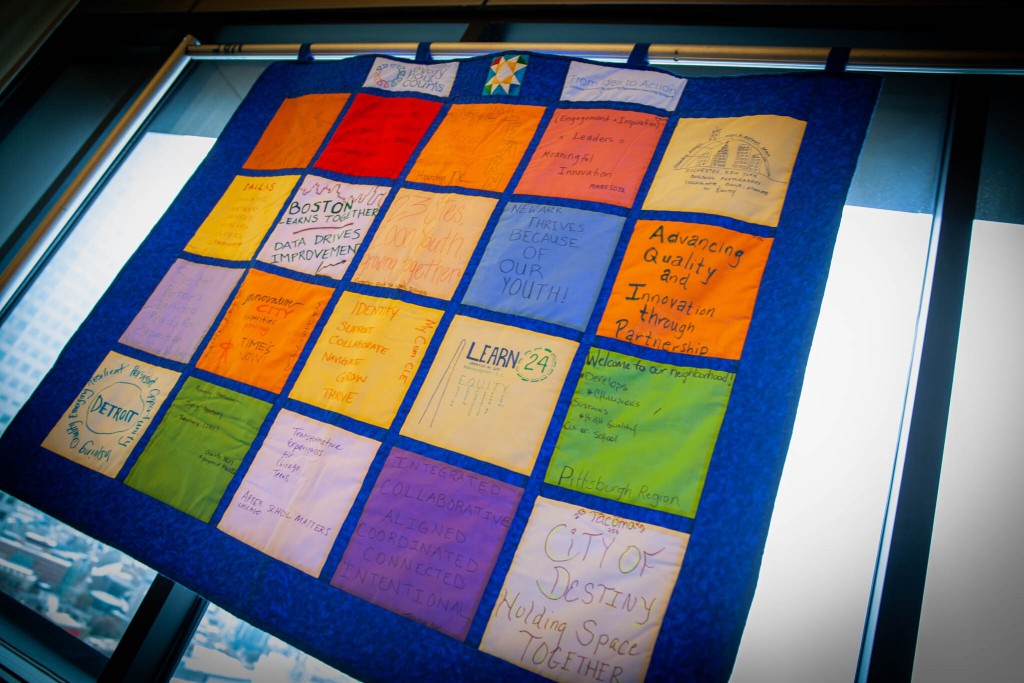 Quilt from our 2019 National Institute featuring the vibrant network of communities partnering, stitching connections, and striving to expand learning opportunities for young people. Check out highlights from our 2019 Institute!
Schedule
Every Hour Counts is presenting engaging, interactive workshops throughout the 3-day experience. 
Together, we'll explore the following content strands through 25 engaging sessions on: 
Elevating Youth Voice –

how intermediaries and communities are creating meaningful opportunities for youth to share space and power to co-design programming, influence policy, practice change, and develop innovative systems.   

Supporting a Thriving Workforce –

responsive strategies to support youth workers and elevate the youth work profession, as well as to

address and adapt to shifting workforce dynamics, such as staffing shortages and retention challenges. 

Continuous Improvement Strategies

– strategies and systems for improving program quality, as well as collecting, analyzing, interpreting, and sharing youth, program, and system-level data to support continuous improvement efforts, increase access to youth from marginalized communities, and tell compelling stories of impact.

Racial Equity and Social Justice

–

efforts to design equitable systems, center racial equity as an intermediary, build strong family and community partnerships, and increase access to BIPOC communities. 

Policy, Advocacy, and Sustainability –

efforts to build and sustain systems of support for youth and their families through advocacy, policy development, strategic communications, social justice, and partnerships. 

Cultivating Well-Being and Supporting Post-Pandemic Recovery –

innovative strategies and/or initiative designs to support post-pandemic recovery and prioritize the health and wellness of youth, families, and the youth workforce.
In these sessions, participants will discuss lessons learned and ways afterschool leaders can play a major role in shaping cities of learning now and in the future.
We're also planning spirited activities and networking events to foster cross-city collaboration and community building.
To learn more about our past events, check out our summary of our virtual event in 2021 and highlights from We Can Move Mountains, our 2019 National Conference in Denver.
Agenda and Workshop Sessions (Click here)
May 30
2:00 – 5:00 p.m.
Registration and Networking 
3:00 – 5:00 p.m.
Pre-conference session on Youth Voice
5:30 – 7:30 p.m.
Welcome Reception
May 31
8:00 – 9:00 a.m.
Registration & Breakfast
9:00 – 10:15 a.m.
Welcome Remarks and Youth Voice Panel
10:30 a.m. – 4:15 p.m.
Workshop Sessions and Lunch 
6:00 – 8:00 p.m.
Cocktail Reception & Networking, Cox Science Center
June 1
7:00 – 7:45 a.m.
Yoga / Fun Activities
8:00 – 8:30 a.m.
Breakfast
8:30 – 10:00 a.m.
Opening Session 
10:30 a.m. – 2:15 p.m.
Workshop Sessions and Lunch 
2:30 – 3:30 p.m.
Making Waves:  Collective Action Planning
3:30 – 4:00 p.m.
Closing Session
Registration
There are a limited number of tickets available, so we encourage you to register as soon as possible. Registration includes access to all event sessions, the pre-conference session on youth voice, two evening receptions, all meals, and tools and resources shared in the workshop sessions.
If the cost of this event poses a challenge for your participation, please email Jessica Donner.
With questions about the event, please email Chris Sweeney.
Conference Location
and Hotel Accommodations
The conference will be held at the Hilton West Palm Beach, 600 Okeechobee Boulevard, West Palm Beach, Florida, 33401
We have a room block at the hotel at a discounted group rate of $219 plus tax. We recommend you book your rooms as soon as possible as we expect the room block to sell out. Please use the booking link in your registration confirmation email to book accommodations. The deadline to use the booking link is May 9th. 
The closest airport is Palm Beach International (PBI). If you are looking for more flight options, Fort Lauderdale airport (FLL) is also nearby.
About Us
Every Hour Counts is a coalition of 28 citywide organizations that increases access to quality learning opportunities, particularly for underserved students. We are a leading voice promoting expanded-learning systems, which provide learning and enrichment through after-school, summer, and other initiatives. Expanded-learning systems help students be more connected to school, build self-confidence, and connect with caring adults, so every student can thrive.