Overview
At the 2021 Every Hour Counts National Conference, we'll gather virtually to reimagine the future of afterschool and what's possible to engage, empower and support young people. We'll explore how to develop community-wide solutions with young people and all leaders from across communities.
Join us April 28-30 to:
Get Inspired. Participants will share stories and seek advice with on-the-ground system leaders who represent a diverse range of perspectives. In interactive sessions with passionate speakers, you'll encounter illuminating perspectives to inform policy and practice in your communities.
Identify Solutions: Engage in strategic conversations with community leaders from across the country to identify solutions that advance the future of afterschool and learning.
Advance Racial Equity: Engage in discussions designed to educate, enlighten, and empower action to foster racially equitable systems and dismantle systemic racism.
Make Connections: Interact with creative thinkers and innovators from across the youth development field and foster new collaborations.
Registration
Early Bird Rate (through March 31)
Group of 4+
$125 per person
Regular Rate (April 1- April 30)
Group of 4+
$150 per person
Reimagining Afterschool to Build Back Better
This past year marked the devastating impacts of the COVID-19 pandemic, a reckoning with systemic racism, and the toll of climate change. Through it all, afterschool systems rose to address every challenge.
Afterschool intermediaries sprang into action to meet the needs of their communities and foster more just societies. They served as constant lifelines for youth, families, and providers, working to ensure that young people are safe, connected, and continue to have access to high-quality learning opportunities. The afterschool field responded immediately to program and school closures and enacted solutions that served as a source of hope, comfort, and educational, social and emotional engagement for young people, especially Black, Indigenous and other youth of color.
The world that emerges after this once-in-a-century pandemic won't be the same.
It won't go back to normal, nor should it.
What will it look like and what will we cherish?
What role will we each play?
What will learning and positive youth development look like?
What will we learn from this experience to build a better and more just society?
Join forward-thinking leaders—intermediary leaders, community providers, school district representatives, policymakers, funders, researchers, and youth to blaze a path forward. Every Hour Counts network leaders who represent 28 communities, 3,500 school and community partnerships and reach 500,000 young people, will share successes, challenges, strategies, and resources to build stronger learning systems that holistically support children and youth.
Community teams are encouraged to register together; Individuals are also invited. Young people are invited to attend for free.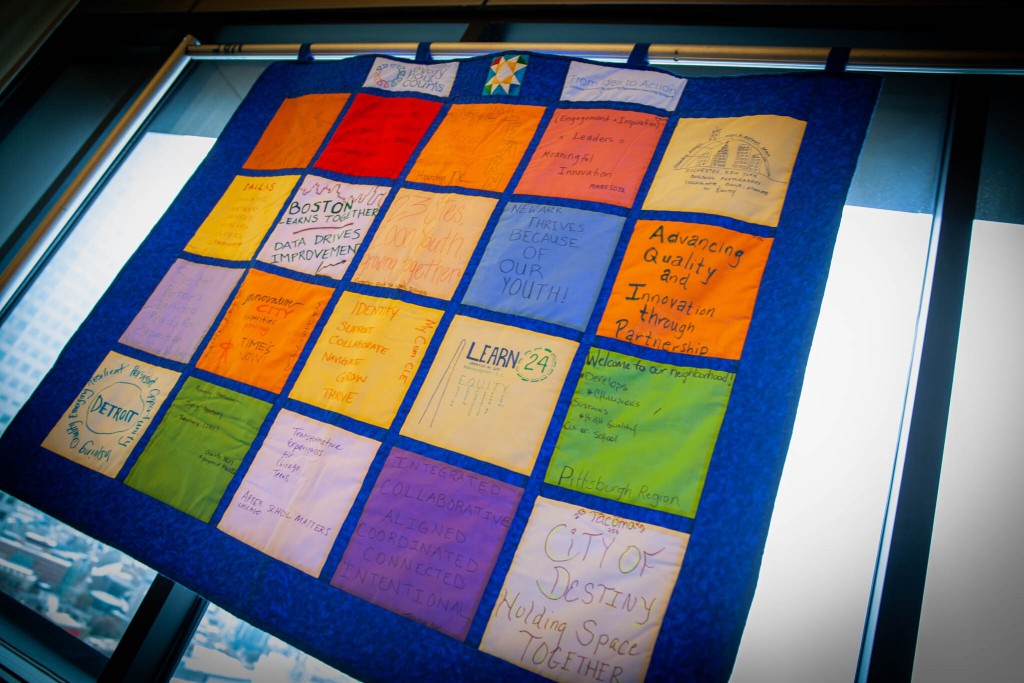 Quilt from our 2019 National Institute featuring the vibrant network of communities partnering, stitching connections, and striving to expand learning opportunities for young people. Check out highlights from our 2019 Institute!
Schedule and Presenters
Every Hour Counts is presenting engaging, interactive workshops through a virtual platform throughout the 3-day experience, as well as access to all session resources and session recordings after the conference ends for continued learning.
Together, we'll explore the following content strands through engaging and empowering sessions on:
Program Quality
Racial Equity and Social Justice
Policy, Advocacy and Sustainability
Data for Continuous Improvement
In these sessions, participants will discuss lessons learned and ways afterschool leaders can play a major role in shaping cities of learning now and in the future. We're also planning spirited activities and networking events to foster cross-city collaboration and community building.
You can access the schedule-at-a glance here.
To help prepare event participants for our virtual Symposium, we've put together this Attendee Checklist for registered attendees!
Attendees are encouraged to email Alexis Lyers at Collaborative Communications if you have any questions or technical difficulties before, during, or after the event!
To learn more about our past events, check out our Highlights from We Can Move Mountains, our 2019 National Conference in Denver
Highlights
Opening Plenary (4/28) featuring Jessica Cardichon, Deputy Assistant Secretary, Office of Planning, Evaluation, and Policy Development, US Department of Education. Opening plenary will also include a discussion with Gigi Antoni, The Wallace Foundation; Suzette Harvey, Prime Time Palm Beach County;  Hal Smith, National Urban League; and Kathleen Traphagen, Grantmakers for Education OST Impact Group
Youth Plenary (4/29) featuring youth leaders from Minneapolis, MN and Tacoma, WA to share insights from a recent Youth Summit and recommendations for the afterschool field.
Keynote address (4/30) from Dr. Shawn Ginwright, one of the nation's leading innovators, provocateurs, and thought leaders on African American youth, youth activism and youth development.
Closing remarks with Congressman David Cicilline (RI)
Design-thinking session (4/28) to reimagine afterschool in small groups
Community-building activities infused with the joy of afterschool!
April 28
12:00 p.m.  – 1:15 p.m ET
Opening Plenary 
1:30 p.m. – 2:45 p.m. ET
Workshops
3:00 p.m. – 3:45 p.m. ET
Design Thinking
4:00 p.m. – 5:00 p.m. ET
Community Building
April 29
11:00 a.m. – 11:30 a.m. ET
Meditation & Yoga
12:00 p.m. – 12:30 p.m. ET
Plenary: Reimagining Afterschool with Youth
12:45 p.m. – 2:00 p.m. ET
Workshops
2:15 p.m. – 3:00 p.m. ET
Networking
3:15 p.m. – 4:30 p.m. ET
Workshops

April 30
11:00 a.m. – 11:30 a.m.
Meditation & Yoga

12:00 p.m. – 1:15 p.m.
Keynote Speaker: Dr. Shawn Ginwright 
1:30 p.m. – 2:45 p.m.
Workshops
3:00 p.m. – 4:00 p.m.
Closing Remarks + Networking
Registration
There are a limited number of tickets available, so we encourage you to register as soon as possible. Registration includes access to all event sessions, session recordings, and tools and resources shared in the workshop sessions. Under 25 years old free.
If the cost of this event poses a challenge for your participation, please email Jessica Donner
Questions?
With questions about the event,
please email Alexis Lyers
at Collaborative Communications.
About Us
Every Hour Counts is a coalition of 28 citywide organizations that increases access to quality learning opportunities, particularly for underserved students. We are a leading voice promoting expanded-learning systems, which provide learning and enrichment through after-school, summer, and other initiatives. Expanded-learning systems help students be more connected to school, build self-confidence, and connect with caring adults, so every student can thrive.